Local Real Estate Market Update September 2023
September Market Update
While mortgage rates remain close to 7% and inventory remains lean, demand for homes in the DC Metro Area is lower for a fourth consecutive month. As you see in the graph, the red current demand line is following a very similar trend line as the previous 12 months in blue, but a lower volume.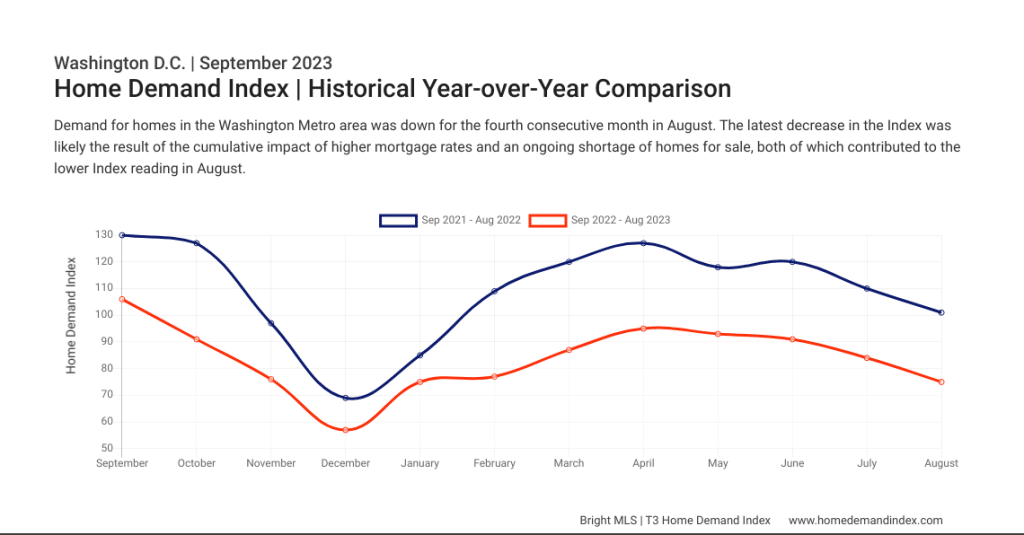 Just today, mortgage rates reached the highest level since the year 2000, at 7.21%.  Anecdotally, however, our Buyer Agents have been very active with buyers, helping half a dozen clients secure new homes in recent weeks.  Our Buyer Agents are advising their clients on strategies to help them buy a home now, whether they negotiate for seller credits, rate buy-downs, and more.  On the listing side, 7 of our listings went under contract in September.
Keep in mind that the Federal Reserve is considering another interest rate hike in 2023, which would keep mortgage rates elevated. We are also tracking the likelihood of a government shutdown as things go down to the wire in Congress. Here's how a shutdown could impact mortgage rates.
Recent Activity in 20002 and 20003, Fee Simple Homes:

IF YOU ARE THINKING ABOUT BUYING OR SELLING, acquiring an investment property, or are simply curious about your current home's value in this market, set up a consultation with Listing Expert Joel or one of our Buyer Agents.
Pictured: an investment property we just brought to the market at 342 8th Street NE, zoned for Mixed Use with lower level business, and upper level separate apartment.
We study the data, so you don't have to. We'd love to share our Real Know-How with you!