JNG Know How and Listing Expertise
How does our listing expertise come through for our clients?
When we work with a seller to get their property on the market, we offer a consultative, comprehensive approach to working with our clients to get the best possible offer, in the fastest possible manner.
JNG Know How means identifying the key areas where a seller can make changes to freshen up the property that offers significant ROI. It also means staging the property, work done by our amazing staging team, so that the buyer can picture themselves happily in your home.
Listing Expertise: HANDS-ON PREPARATION ASSISTANCE
The homes that inspire buyers to take action are those with distinctive design and in pristine condition. It is vital to stand out from the competition. We craft a step-by-step custom checklist of pre-market improvements and inspired design techniques, then we personally help coordinate cost-effective execution of the list.
As you can see in the featured photo above, the seller made updates to the floors, kitchen cabinets, and fresh paint to transform a drab and outdated look to a fresh and updated one.
Listing Expertise: STAGING CONSULTATION
Once the prep and cleaning are complete, our in-house decorating team uses a combination of your furnishings (when present) and our inventory to 'stage' the home's contents and décor. They create the look that motivates your target home buyers. This alone saves thousands in cost to our sellers, and generates many thousands in extra sale proceeds by delivering vision to the right buyer.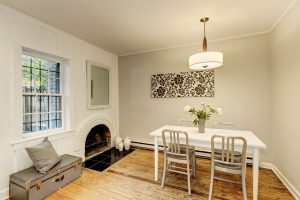 Next Steps