Supporting Our Neighbors in Need
In these stressful and challenging times, we acknowledge our gratitude for everything we have, especially the food on our tables. For many of our neighbors in need, FOOD continues to be a source of struggle. That is why, in place of a Client Appreciation Event this spring, Joel Nelson Group is donating the cost of food for that event, together with our co-sponsors KVS Title and Chris Cox of First Savings Mortgage, to the Capitol Area Food Bank (CAFB).
The Capitol Area Food Bank is particularly well-equipped to use these funds and distribute food quickly and efficiently to our local neighbors in need. Because of the scale of their regional operation, their purchasing power is quite strong:
Every dollar you give helps CAFB provide 2.5 meals.
So if you are in a position to join our Capitol Hill Real Estate friends – Joel Nelson Group, KVS Title, and Chris Cox of First Savings Mortgage – please consider donating to this most worthy cause at a time of MOST URGENT NEED!
Not only are their more hungry people due to COVID-19, but the regular operations and supply for CAFB have been impacted, as you can see in these illustrated graphics: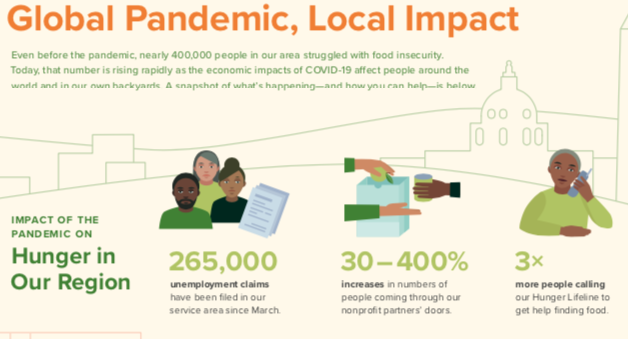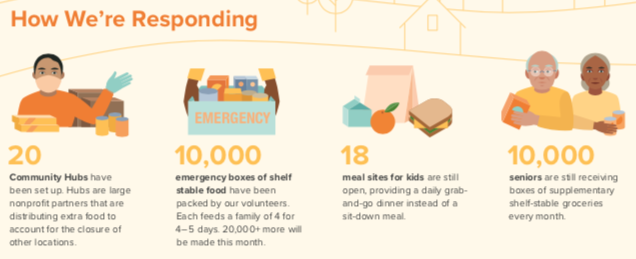 We've set a goal of raising $10,000, with each of our teams contributing $2,000 toward that goal to get us more than halfway there. Our community is strong, and we hope those of you who can will help demonstrate the tremendous power and strength of giving, TOGETHER, and help us reach our $10,000 goal!
(That's 25,000 Meals – LET'S DO THIS!)
Thanks for your consideration!
Chris Cox of First Savings Mortgage