Benefits of a Listing Agent (vs. FSBO)
The Joel Nelson Group Difference: Benefits of a Listing Agent 
A cautionary tale for sellers considering FSBO or other selling strategies.
The Washington Post recently featured a story about the advantages and pitfalls of selling your property by owner. As a full-time Real Estate Team, we understand the ins-and outs of every transaction, how to negotiate forcefully on behalf of our clients, and when to use our industry relationships to help our clients get the best service and results. When it comes to one of your most valuable assets, the experience of a knowledgeable real estate agent is PRICELESS!
These recent Joel Nelson Group listings closed successfully for our seller clients. What do they have in common? Each property initially went on the market with another agent – and did not sell. These sellers approached Joel Nelson Group to help. Our results speak for themselves
Four Joel Nelson Group Listings Averaged
Under contract within 5 days of listing
Secured 101.6% of list price
2 homes received multiple offers
The Details
1739 D St SE (Capitol Hill) – 4 bed, 3.5 bath, $900,000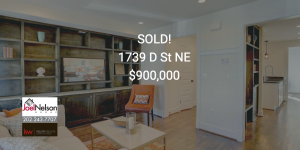 After our developer partner completed a beautiful renovation of the home, they tried to sell on their own. They engaged Joel Nelson Group to stage and market their home (at the right price) for a successful sale.
4041 7th St NE #1 and #3 (Brookland / University Heights) –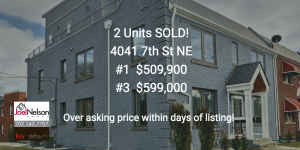 Unit 1: 4 bed, 3.5 bath, $509,900 ($10K over list)
Unit 3: 3 bed, 2 bath, $599,000 ($20K over list)
Two units of this condo building did not get any strong offers with a different listing agent. Our team came in with a new proposal, top-notch staging and marketing, and moved both units within 1 week of listing!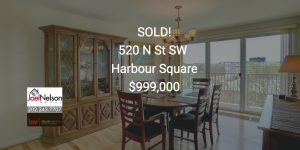 520 N St SW (Harbour Square) – 2 bed, 2 bath, $999,000
These clients came to us when their listing sat for months. With proper staging, and the right price and marketing, our clients were thrilled to achieve list price.
What to Look for in a Listing Agent
Here are a few highlights from the piece in the Wednesday May 1 Real Estate Section, with our own outlook on why each item is critical and how we approach it.
The importance of STAGING your home. This is an additional cost item for many listing agents. Joel Nelson Group includes this professional service for no additional cost. And the results are stunning!
Using professional photos online. Once the house is properly stage, we enlist a professional photographer to conduct a photo shoot of your home, getting every angle just right. It's important to get this right for online promotion of the home, but also for our print fliers that showcase your home to open house visitors that want to take something home with them. (A sample here.)
Setting your list price. There are many data points that factor into setting the right price for your property, but when you bring 17 years of experience to the equation, it can often make the difference in properly attracting the right buyer for your home, and achieving list price, or attracting multiple offers and escalating beyond list price.
When it comes to listing your home, contact us for a free consultation today. When you go to market, we will have your home looking its best for a most successful sale!